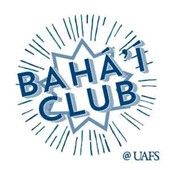 You're warmly invited to this free event held in Vines 227. Snacks provided.
The Spiritual Readings Series offers brief but potent excerpts from the world's great Religious Scriptures, including the Torah (Judaism), the Hidden Words (the Baha'i Faith), the Bible (Christianity), the Quran (Islam), and the Tripitaka (Buddhism).
This week's topic: Healing.
This weekly event is sponsored by the Baha'i Club, a religious student organization that promotes unity in diversity and service to campus and community.
For more info, please contact club president Diem Nguyen dnguye04@g.uafs.edu or club adviser Mary.Sobhani@uafs.edu. For more info on the Baha'i Faith, visit www.Bahai.us. Follow us on Numalink, Facebook, Insta and Discord.
Club Motto: "The betterment of the world can be accomplished through pure and goodly deeds, through commendable and seemly conduct" (Baha'u'llah, Baha'i Writings).
Tuesday, January 18, 2022
---
Contact:
Dr. Mary A Sobhani

Phone: 4796520178

Categories:
5310 Grand Avenue

Fort Smith
,
AR
72904