Our Facility
Please use the accordions below to learn more!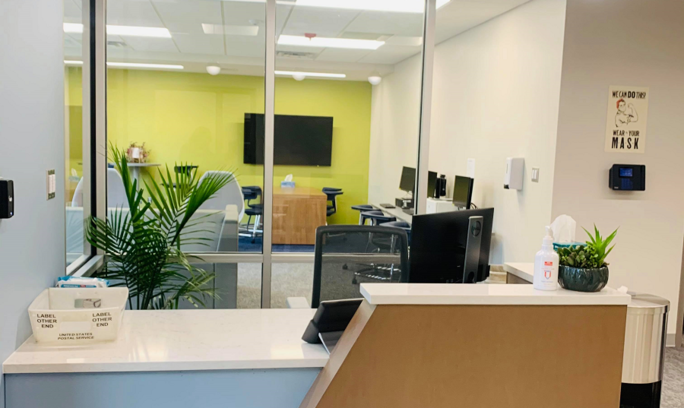 With plenty of comfortable seating, this well-lit and inviting room is perfectly equipped as a space for students and Writing Center clients to relax and wait for their appointments. At the front of the room is an open-access coffee bar, and on the back wall is a flatscreen monitor so students can conveniently work together on group projects. Additionally, three computers and a printer line the wall of the room so that visitors have the option of working on papers or simply enjoying the view through the large windows in the company of our friendly staff.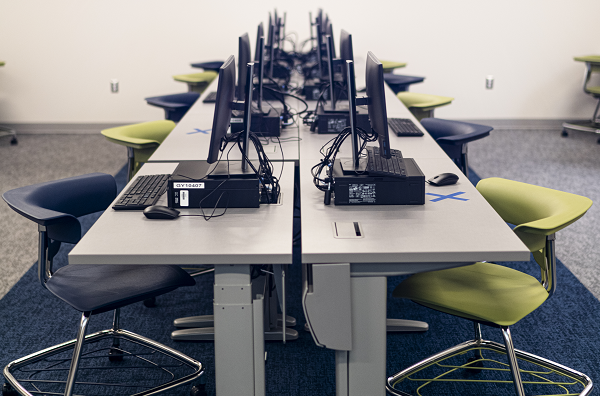 The goal for this room was color and utility. Though its basic function as a computer lab and classroom remains the same, the design team was determined to make the space more inviting by incorporating bright colors and rearranging the layout. This room features a glass markerboard designed to last. The multicolored chairs in the lab and throughout the center have a sleek design meant for more than just style: They are outfitted with a storage rack beneath the seat and can support the weight of a person on the backrest. No more need to lean on desks or tables!). This lab also has an adjustable desk that is wheelchair accessible and can be raised and lowered at the push of a button.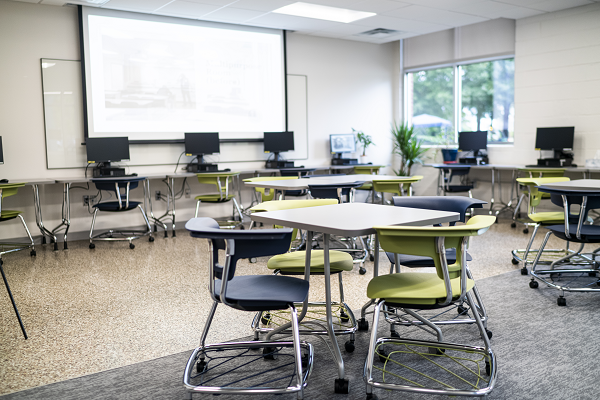 The name says it all: This is a space that meets the various needs of our campus community. On the far wall are two enclosed group study rooms that can be used for tutoring and group study purposes. Glass walls and plenty of windows brighten the whole room and allocate divided areas without removing the sense of open space. The tables and chairs in the middle of the room are on wheels to allow for easy rearrangement, ideal for in-person tutoring appointments. Computers line the perimeter of the room, and the addition of soundproofing boards prevents the carrying of noise into the Study Room and Editing Bay.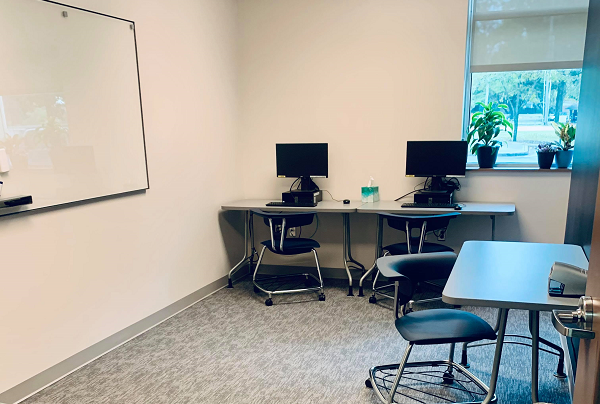 Equipped with sound abatement and designed to accommodate those with heightened sensory sensitivity, this room provides a quiet space on campus for writing and multimedia projects. The two computers in this room are outfitted with editing software such as the Adobe Creative Suite. Combined with a glass markerboard and light filter that allows for multicolor capacity, makes this an ideal room for completing editing projects.