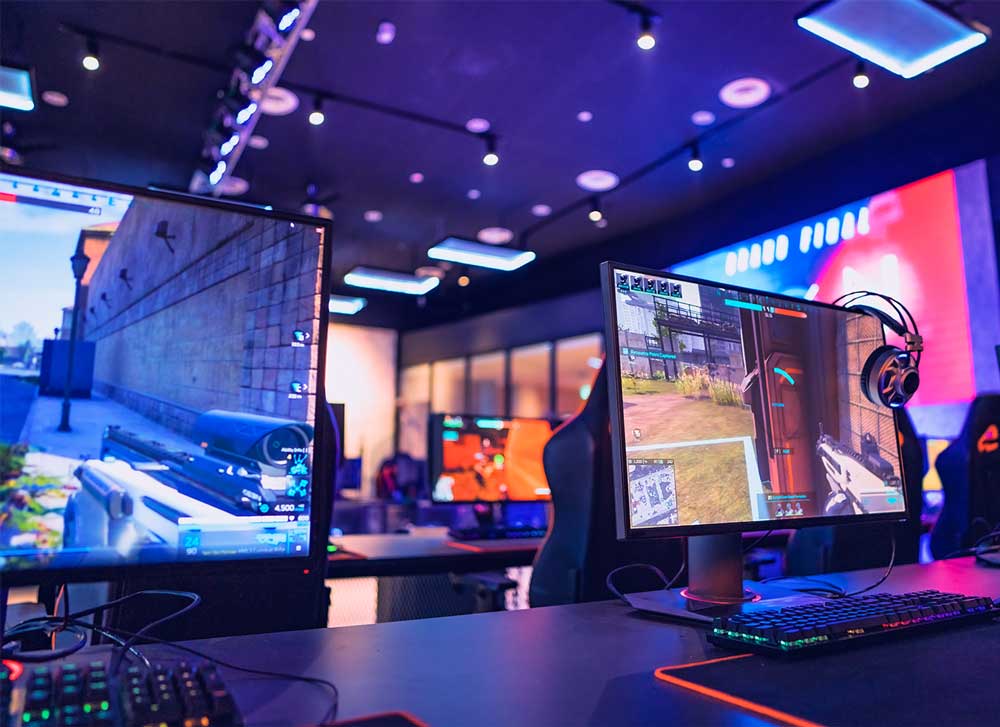 Featured | News
October 05, 2023
Join the Excitement: UAFS eSports Team Prepares for High-Stakes LAN Tournament
Athletes come in all shapes and sizes, but what makes them equal is their dedication to the sport they play. At the University of Arkansas – Fort Smith, one team is preparing for its most significant challenge yet.
On the second floor of the Baldor Building, a relatively quiet room full of students wearing headsets and furiously clicking away on their keyboard and mouse might not be cause for a second look. However, if you take a moment to pause and peek inside, you will see the room is alive with teammates working together to secure a win.
The UAFS eSports team, Digital Lions, may be the newest team on the campus, but it is quickly becoming one of the best.
On Oct. 7, the UAFS Valorant Blue team will compete in the Red Bull Campus Clutch Delta Region tournament in Huntsville, Alabama. College teams from Alabama, Arkansas, Louisiana, Mississippi, and Tennessee will go head-to-head in an offline, or LAN, match in the first-person shooter game Valorant. The winning team will move on to compete in an East versus West tournament to determine which team will represent the U.S. in an international tournament.
Team captain for Valorant Blue, senior Rylynd Bullington, understands there is a lot at stake but is excited for the opportunity to represent UAFS. Following a victory during a Sept. 16 tournament, the team punched their ticket to the next stage of the competition on the college circuit.
"We can say that we're top 12 in the US, or (top) 24, depending on how we play," Rylynd said when asked about the significance of winning the Oct. 7 tournament aside from moving on to a national tournament.
Digital Lions' coaches, Dr. Nicki Stancil and Cody Holt said they couldn't be prouder of what the team has accomplished quickly and are eager to see what the tournament holds.
"It's the first full year of competing … and the amount of work they've put in this year has been fantastic," Stancil exclaimed.
"They've been great since they started. They've been great during this tournament," Holt beamed. "I'm feeling really good about how they've been performing, and I'm expecting they'll come home with a win."
The team will continue to practice and prepare to face their opponents, Auburn University, Cumberland University, and Louisiana Tech University, leading up to the tournament. This will be the first tournament the UAFS team has competed in outside of Arkansas, and it will be unusual as the teams will meet in person instead of virtually, as usual.
In-game leader junior Michael Radke transferred to UAFS and brought with him the experience of playing in a high-pressure LAN tournament. He believes in treating it like every other day when preparing for game day.
"For us to play well, we have to not feel out of our comfort zone, and to do that, from what I've learned, is you just have to keep the same routines in life," Michael said. "You don't have to do anything different than usual. You just have to show up and play like you usually do. Don't overthink it."
Part of keeping things business as usual comes from the classroom. Stancil and Holt recognize that while their team is comprised of athletes, they are students first.
"I'm a stickler for them meeting our GPA minimum (2.75)," Stancil said. Continuing where she left off, Holt explained, "We routinely go through to check their current GPAs. … They are very much aware that if they fall short of our GPA requirements, they do go on probation."
However, the team works to make sure everyone is academically eligible. Players take advantage of the team atmosphere by forming study halls and ensuring grades come first. The trip to the Red Bull Campus Clutch tournament will be the same. Fans of the Digital Lions' Valorant Blue team can expect business as usual heading into the event, from the classroom all the way to gameplay.
The Red Bull Campus Clutch USA Delta Offline Qualifier will begin at noon CST on Oct. 7 at DiVRgence in Huntsville. Join the rest of the Digital Lions team at 10:45 a.m. in Baldor, 122, for a live-streamed watch party and cheer on Valorant Blue from afar.
If unable to attend the watch party, stream games on the UAFS eSports Twitch or the official tournament stream. Follow the Digital Lions' social media pages and tag them with #Lionsontop. To see a sample of in-game action, the team has a highlight video posted online to get fans excited about the tournament event.
Tags:
Digital Lions
Valorant Blue
eSports
Media Relations
The UAFS Office of Communications fields all media inquiries for the university. Email Rachel.Putman@uafs.edu for more information.
Send an Email
Stay Up-to-Date
Sign up to receive news and updates.
Subscribe
Rachel Rodemann Putman
Director of Strategic Communications
479-788-7132
rachel.putman@uafs.edu
Submit A News Tip