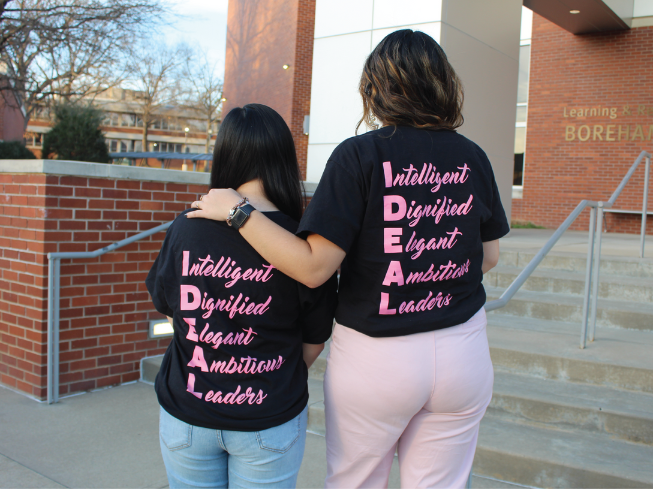 March 22, 2023
Women Seek to Amplify their Voices in New Student Organization
On the University of Arkansas - Fort Smith campus, a new student organization is making an impact – and a difference. IDEAL Women, one of the university's newest student organizations, was created by women for women with the goal of creating a welcoming and inclusive community unlike any other on campus.
"I wanted to be a part of a group that embodies the values that are important to me, and I felt like I could relate to the individuals involved with IDEAL Women based on how the organization represents themselves throughout campus," said Natalie Chuong, who, shortly after joining, stepped up to serve as the organization's treasurer. "Being a part of IDEAL Women makes me feel heard, seen, and welcomed."
Sheilah McKesson, Chief of Staff, echoed Natalie's sentiments, reflecting on the power of IDEAL Women to strengthen community ties. "Being a nontraditional student, it's hard to form friendships and feel connected on campus, but becoming involved with IDEAL Women has given me relationships that are molding me into a better woman."
Operating with open membership and no annual fee, IDEAL aims to be an accessible and equitable community of UAFS students while offering specific support for the unique challenges faced by women of color in primarily white institutions.
"Since joining IDEAL, I have a sense of being at home when I'm on campus, and I'm becoming a better leader and a better friend," Sheilah said.
Jasmine Rosa, founding member and president of IDEAL Women, recognizes the importance of representation and amplifying voices that have been historically marginalized. "I helped build this organization because, as a minority woman, I felt as if my voice was not heard. Forming IDEAL was a shout to have my culture and opinion amplified, to not only have a sense of belonging for myself but also for others."
Over the past decade, women have enrolled at higher education institutions at higher rates than their male counterparts and boast a higher 6-year graduation rate as well. IDEAL Women aims to celebrate the resiliency shown by women in higher education on a national scale while building strong support systems to help women persist and succeed at UAFS.
Throughout the semester, IDEAL Women hosts networking and social events that help connect members with leaders in the community, future mentors and resources, and valuable experiential learning opportunities. The organization also offers peer mentorship and hosts informal study groups.
This network of high-impact educational practices has been proven to increase student persistence and completion rates. Similarly, the supportive and inclusive campus environment IDEAL aims to create has been linked to higher self-efficacy, engagement, and a sense of belonging for members.
In a world where women are still underrepresented in many areas of society, IDEAL Women hopes to set an example for the women of UAFS to aim higher, dream bigger, and shout louder.
"We demand to be heard," Jasmine said. "And IDEAL Women is making sure that our voices are heard loud and clear."
Tags:
Student
Identity-Based Registered Student Organizations