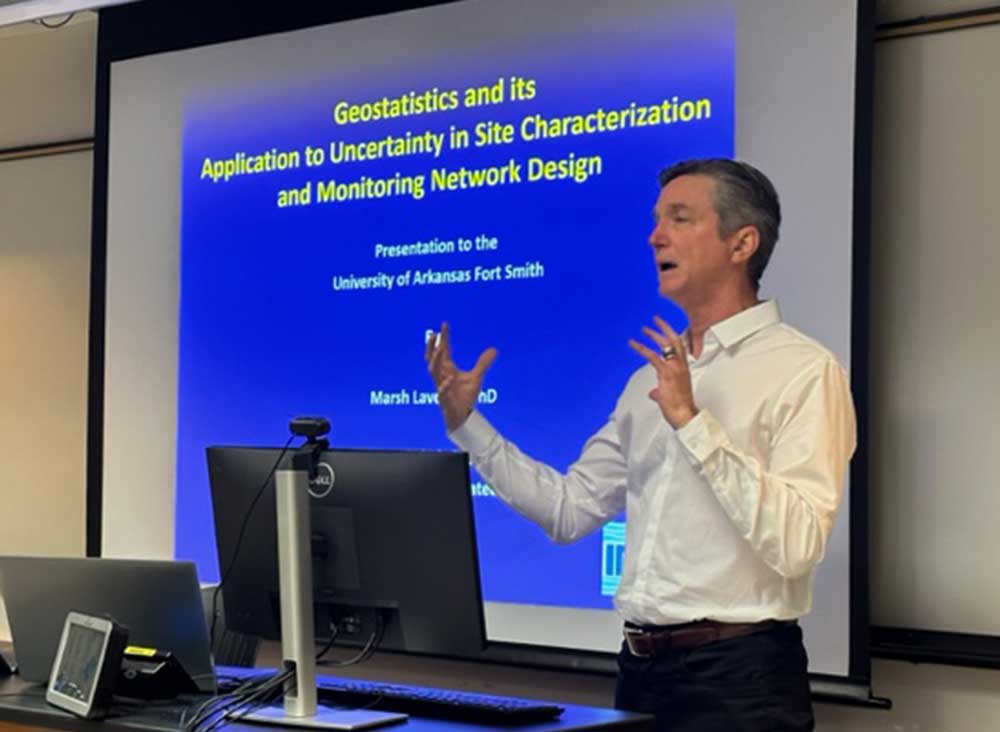 Arts and Sciences | News | Students
November 09, 2023
CEO of INTERA Visits UAFS Campus, Students
Dr. Marsh Lavenue, the CEO of INTERA, an environmental and water resource consulting firm, visited the University of Arkansas – Fort Smith as a guest lecturer on Oct. 27. Lavenue spoke to a class of more than 20 geology students about the use of spatial statistics in hydrogeology as well as the current needs of the environmental and water resources consulting industries.
Growing up in Fort Smith, UAFS symbolized more than just a pillar of continued education for Lavenue. UAFS is near and dear to the Southside High School grad, whose mom taught at the university, then Westark College.
During his recent lecture, Lavenue described what UAFS means, saying he is "invested in every aspect of the institution." This investment is evident through the scholarship he and his siblings established after his mom passed away, the Margaret Marsh Newell Endowed Scholarship, awarded to students pursuing a bachelor's degree in education. His investment is also evident through his pursuit of hiring geology graduates from UAFS who can make a difference at the company he leads.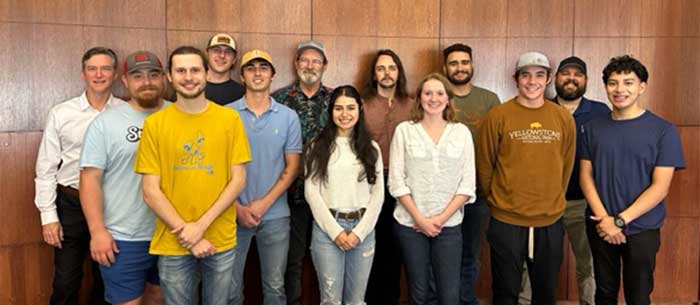 "The professor-to-student ratio here and the care and time they spend with a student pays off. It's clear the graduates are well trained," Lavenue explained.
Following a prior visit to UAFS in 2019, Lavenue also met with UAFS' first graduating class of geology students aspiring to find a career in geosciences. During that visit, he met and eventually hired UAFS geology graduate Pedro Gutierrez.
"Pedro has been a fabulous hire for us, and I see him continuing to advance in the company," Lavenue said of Gutierrez, who was hired as a geoscientist in March 2020. "He's got the people skills, the right technical training, and the work ethic. I'm very proud of him, and my team is asking me to hire one or two more geology graduates like Pedro."
Lavenue holds a doctorate in Hydrogeology from the Paris School of Mines, a master's in Geophysics, and a dual bachelor's in Geology and Geophysics, all three from Texas A&M University. While hiring from major university geoscience programs continues at INTERA, Lavenue said, the opportunity to find graduates properly trained at smaller institutions like UAFS speaks highly of the programs and professors teaching at UAFS. UAFS Associate Professor of Geoscience Dr. Maurice Testa echoed the sentiment.
"We strive to prepare each of our majors with not just the knowledge needed to succeed in the geoscience field but also the ability to think critically outside the box," Testa said. "Science is always evolving and changing, and our students know how to adapt and think through real-world problems. The fact that Dr. Lavenue has hired our majors in the past and continues to explore hiring others shows that our students are ready for the job market when they cross the UAFS graduation stage."
Lavenue has worked for INTERA since 1985, serving the last 16 years as CEO. The company is headquartered in Austin, Texas, and has thirteen additional locations, including three international offices.
Tags:
Hydrogeology
Geosciences
Guest Lecturer
Geology
Media Relations
The UAFS Office of Communications fields all media inquiries for the university. Email Rachel.Putman@uafs.edu for more information.
Send an Email
Stay Up-to-Date
Sign up to receive news and updates.
Subscribe
Rachel Rodemann Putman
Director of Strategic Communications
479-788-7132
rachel.putman@uafs.edu
Submit A News Tip