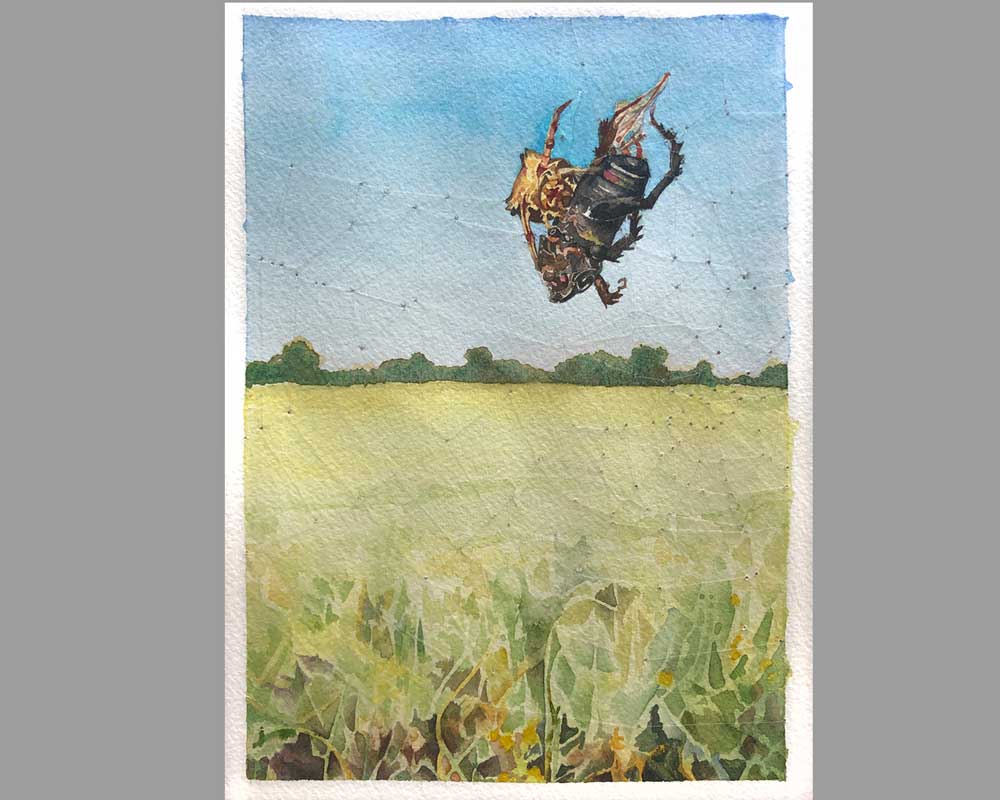 Arts and Sciences | Community | Events
November 01, 2023
Traveling Art Exhibition Makes Stop at UAFS
The University of Arkansas – Fort Smith Windgate Art & Design building became the temporary home to the Arkansas Arts Council's 36th annual Small Works on Paper touring art exhibition. The stop at UAFS will be the last in a series of nine in-state tour locations this year.
Small Works on Paper features 40 works of art from 27 artists from around Arkansas. Each piece on tour is no larger than 18 inches by 24 inches and is evaluated and selected by an out-of-state juror, Margaret LeJeune.
LeJeune is an associate professor of photography at Bradley University in Peoria, Illinois. As juror, LeJeune reviewed more than 250 entries before selecting the 40 on display in the touring exhibition. Five pieces of work were chosen to receive purchase awards. These pieces will become part of the Small Works on Paper permanent collection.
UAFS Gallery Director Dr. Matt Bailey said he appreciates the opportunity given by the Arkansas Arts Council to host the touring exhibition and plans to make Small Works on Paper a part of the annual exhibition program at UAFS.
"It's a great opportunity for our campus and community to experience art of high quality by artists from our state," said Bailey. "The UAFS Gallery of Art is excited to host this annual exhibition showcasing a wide variety of inspiring approaches to work on paper, including different styles and materials."
According to the Arkansas Arts Council's entry specifications, "all work must be original, on paper, and completed within the last two years. Eligible mediums include painting, photography, drawing, printmaking, mixed media, and collage."
Patrick Ralston, Arkansas Arts Council director, said the exhibition allows new artists to share their "portfolios and insights into the world around them." Ralston praised the showcase for providing an "evolving reflection of art and culture in Arkansas."
The Arkansas Arts Council is an agency of Arkansas Heritage, a division of the Arkansas Department of Parks, Heritage and Tourism, committed to advancing the arts in Arkansas. The Arkansas Arts Council provides technical and financial assistance to Arkansas arts organizations and providers of cultural and educational programs. It also supports arts endeavors that encourage and assist literary, performing, and visual artists in achieving standards of professional excellence.
Small Works on Paper will remain displayed in the UAFS Gallery of Art & Design – Don Lee Student Gallery until Friday, Dec. 1. The exhibition is open Monday through Friday, 9 a.m. to 4 p.m.
Tags:
UAFS Gallery of Art and Design
Windgate Art and Design
Small Works On Paper
Windgate Gallery
Media Relations
The UAFS Office of Communications fields all media inquiries for the university. Email Rachel.Putman@uafs.edu for more information.
Send an Email
Stay Up-to-Date
Sign up to receive news and updates.
Subscribe
Rachel Rodemann Putman
Director of Strategic Communications
479-788-7132
rachel.putman@uafs.edu
Submit A News Tip