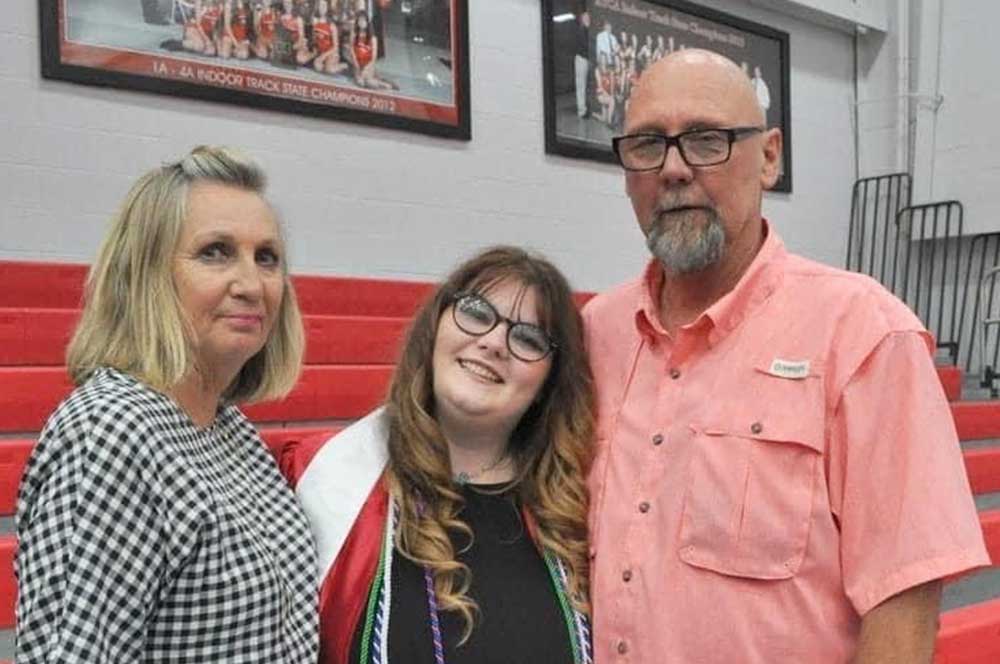 News
October 12, 2023
Eyermans Recognized as UAFS Family of the Year
In the fall of 2020, the University of Arkansas – Fort Smith Student Government Association (SGA) was tasked with creating an annual award. Students decided upon developing the UAFS Family of the Year award. This year, Joe and Lyshelle Eyerman were named the award recipients following a nomination from their granddaughter, UAFS junior history student Kimber Campbell.
After transferring from Hendrix College in the fall of 2022, Kimber found a home at UAFS and with her grandparents. She recalled their unwavering support of her education even as a child and how it has never wavered, even into adulthood.
"My grandparents push me to be better," Kimber said. "When I feel like I'm going to fail, they give whatever support they feel like I need, whether it's a hot meal or a fire under my butt to get stuff done."
But being the educational motivators for Kimber is just one part of what makes the Eyermans candidates for the UAFS Family of the Year.
In Kimber's nomination and conversations since, she detailed how her grandparents are her rock in every aspect of her life.
She wrote in her nomination, "My grandparents are among the most humble and deserving people I have had the privilege of having in my life." Whenever Kimber sought academic or personal assistance, she said her grandparents were always the first to step up and help.
"Anytime I need help with an assignment, advice, or career problems, my grandparents always give me not only the time, but their shared wisdom on how I can resolve my issue," Kimber wrote. "When my grandparents knew I couldn't afford books for school or gas, they would always find a way to make sure I had enough money to get to school or get said book."
Kimber admits she nominated her grandparents not expecting to win but out of love. She wanted to thank them and share how much they mean to her, being Kimber's "family of the year, no matter what."
To Kimber's surprise, her nomination was selected by the SGA, and it wasn't until a phone call after a missed email from UAFS Associate Vice Chancellor and Dean of Students Dr. Dave Stevens that her "family of the year" became the UAFS Family of the Year.
The Eyermans were presented with a crystal award during the UAFS volleyball game against Texas A&M International University held during UAFS Family Weekend. Kimber joked that she hoped to keep the award a surprise but had to tell her grandparents to ensure they came to campus, but the moment didn't disappoint.
"They were shocked, definitely my grandma," Kimber shared that her grandma has a certificate of completion from UAFS and considers herself a Lion for life. "Both of them were so proud to represent our entire family in front of UAFS."
Although a new family will inherit the title of UAFS Family of the Year next year, for Kimber, this was a moment of pride and immeasurable gratitude for those responsible for going above and beyond in supporting their student.
"Everyone deserves grandparents like them," she boasted. "I'm so proud of the life and family they created through hard, hard work. … They know how much I love them, and this was more of a way to show everyone how great they are and how they are truly responsible for who I am as a person."
Tags:
UAFS Family of the Year
Family Weekend
Student Government Association
Media Relations
The UAFS Office of Communications fields all media inquiries for the university. Email Rachel.Putman@uafs.edu for more information.
Send an Email
Stay Up-to-Date
Sign up to receive news and updates.
Subscribe
Rachel Rodemann Putman
Director of Strategic Communications
479-788-7132
rachel.putman@uafs.edu
Submit A News Tip