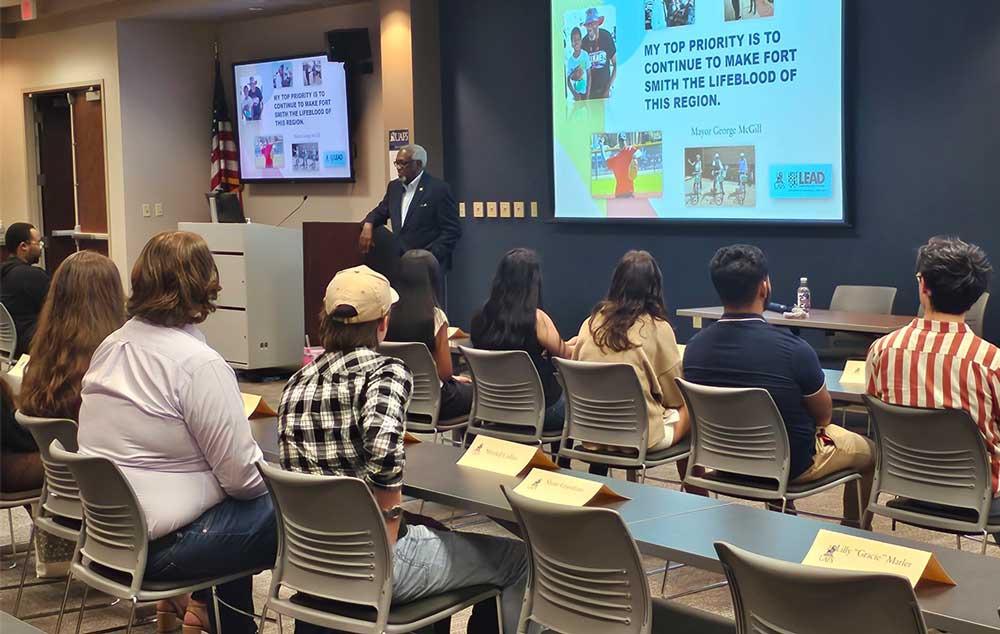 Arts and Sciences | Business and Industry | Health Education and Human Sciences | News | Students
October 19, 2023
Lessons in Leadership: Mayor George McGill Shares Wisdom with UAFS Students
"The most important leadership skill to have is the ability to listen," said Fort Smith Mayor George McGill to a room full of students and university leadership during an October lecture.
The lecture was the second in a semester series – Leadership Nuts and Bolts – organized by the University of Arkansas – Fort Smith's LEAD Living Learning Community leadership committee. The LEAD LLC is one of three at UAFS, each for first-year students living on campus on a floor reserved for each community in the Lion's Den Residence Hall.
LEAD, or Lions Excelling Across Disciplines, is for students from "all majors who are interested in receiving leadership training and skill development to become leaders in their own community," the LLC website details. Students selected to be in each LLC received a $1,000 scholarship and are active participants in experiences, like the Leadership Nuts and Bolts Lecture Series, throughout the academic year.
McGill, himself a UAFS alumnus, discussed his journey from growing up in a segregated community to owning a successful business before taking on political roles, eventually earning him the title of Fort Smith Mayor. He spoke to nearly 30 students from the LEAD LLC and the recently re-established UAFS Black Student Alliance (BSA), giving lessons in leadership.
McGill shared that his leadership principles come down to 1) listening, 2) communication, 3) collaboration, and 4) cooperation.
Benjamin Yarberry, a first-year student majoring in biology, attended the lecture with other students from the LEAD LLC and, after listening to McGill's story and message, left with a new understanding of how UAFS invests in its students.
"At UAFS, events like this are meant to push students into being where they should be," Yarberry explained. "It makes us better than just being learners. It educates us on how to be in the real world."
Reflecting on his journey, McGill left the group with a parting message on perseverance: "Once you start something good, quitting is not an option." This wisdom struck a chord with BSA president Kendrix Holcomb, a senior business administration major.
"No matter how much falls through, you can't get discouraged," Kendrix said. "This is something I really care about, and I feel it will help not only the UAFS community but the outward community as well. … We have students trying to make an effort to grow our Black community and get more in touch with the ones we don't know about."
The next Leadership Nuts and Bolts lecture will be held on Nov. 10.
Tags:
College of Business and Industry
College of Health Education and Human Sciences
College of Arts and Sciences
Living Learning Community
LEAD LLC
Black Student Alliance
Media Relations
The UAFS Office of Communications fields all media inquiries for the university. Email Rachel.Putman@uafs.edu for more information.
Send an Email
Stay Up-to-Date
Sign up to receive news and updates.
Subscribe
Rachel Rodemann Putman
Director of Strategic Communications
479-788-7132
rachel.putman@uafs.edu
Submit A News Tip