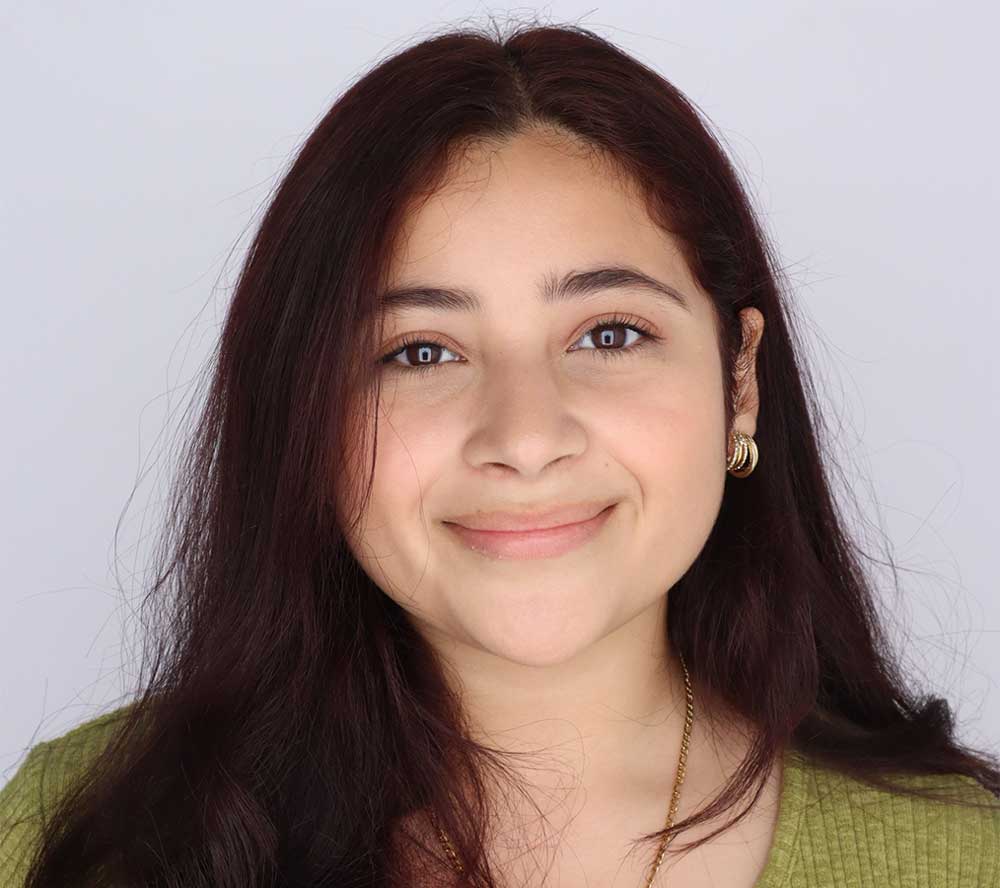 First Generation | Health Education and Human Sciences | Lion Voices | Students
October 26, 2023
First Gen Voices: Mayeli Rivas
Mayeli Rivas, a junior nursing student, grew up in Fort Smith with dreams of attending college and, hopefully, achieving better employment opportunities as a result. As a University of Arkansas – Fort Smith student, she has become the first in her family to attend college, an accomplishment she said they have supported and encouraged. Mayeli continues to work toward earning her degree to make her family proud and to be a role model for her younger siblings.
One of Mayeli's most endearing qualities is her sense of humor. When asked, "What does being a first-generation college student mean to you?" she compared it to being the character Mario in the Donkey Kong game.
"Life is a game that will keep throwing obstacles toward you," she explained. "Sometimes you can avoid it; other times you must reevaluate the situation and start over. Not having a collegiate guide to point you in the right direction creates self-doubt."
As a first-generation student, she shared that she wasn't always equipped with the necessary resources to overcome obstacles like the barrels Mario jumps over. Still, she hasn't let it stop her from climbing the ladder to success.
"My family represents Princess Peach, but instead of crying for help, they cheer me on. They have continued to succeed in their game of life and are waiting for me to accomplish my personal goals," Mayeli said. "They may not be able to help me win the game of life inherently, but when I do, they will serve as a reminder of how it started and how far I have gotten. Without my parents continued cheers of support, encouragement, and positivity, I would not be a strong person that can finish the game. I may reach a broken ladder or worsen my situation by going up another, but I will continue to push forward because that's what my parents taught me."
Despite Mayeli's parents being her most prominent supporters, explaining some of the challenges she faces as a first-generation college student can be difficult.
"The biggest challenge I have faced was being unable to confide with my parents about my university struggles," she said. "My parents have not gone to college and don't understand the depth and difficulty of being a college student. I talk to my parents about my many struggles, but when it comes to college struggles, I tend to shut them out and feel alone."
However, Mayeli found a community of others like her who face the same type of struggle, and these interactions have helped her feel more included. She said that by being involved in activities like First Gen Fridays, "College has many resources to help you succeed, and programs like First Gen show us what we may be missing. The stories of other first-generation college graduates have continued to help me acknowledge that others have gone through similar experiences and have been able to succeed."
Mayeli's time on the beautiful UAFS campus began in 9th grade at Darby Junior High (now Darby Middle School). She was accepted into the Upward Bound Math/Science program and remained there until 2021, when she graduated. She credited the Upward Bound staff for significantly impacting her journey to college and success once she arrived.
"The two who have made the most impact on my life are Liana Jerry and Christin Staats…they have been crucial to my journey as a first-generation student," Mayeli shared. "Christin was my Upward Bound high school advisor, and she has been incredibly supportive. Whenever I felt burnt out or felt imposter syndrome, she was there to assure me of my successes. She has been my recommendation on every college, scholarship, and job application.
"Liana was my tutoring advisor during high school and my unofficial writing center. She is always open to listening to my worries and has helped tremendously with my speech and English classes. Liana is amazing at listening and trying to understand my problems. She doesn't just listen; she provides me with options. I might feel like I cannot find a solution, but she may have been through what I have been through, and she shows me that the solutions are there. Most of all, they showed me that anything is possible when I set my mind to it."
Mayeli is paving the way for her two younger siblings and scores of other first-generation students just like her. She would give a future first-gen student some advice: "Do not let anyone diminish your successes by comparing yourself to others. Not one person knows the answer to life. Understand that your priorities and responsibilities are different from others. You may be successful in one aspect of life but not in another. That does not mean you need to give up. It means it may take longer, or you must find another way to solve a problem. Your successes are for yourself, not for others. If you feel a sense of accomplishment, do not let anyone else cloud it."
Tags:
Nursing
College of Health Education and Human Sciences
Upward Bound
First Generation Student
Media Relations
The UAFS Office of Communications fields all media inquiries for the university. Email Rachel.Putman@uafs.edu for more information.
Send an Email
Stay Up-to-Date
Sign up to receive news and updates.
Subscribe
Rachel Rodemann Putman
Director of Strategic Communications
479-788-7132
rachel.putman@uafs.edu
Submit A News Tip