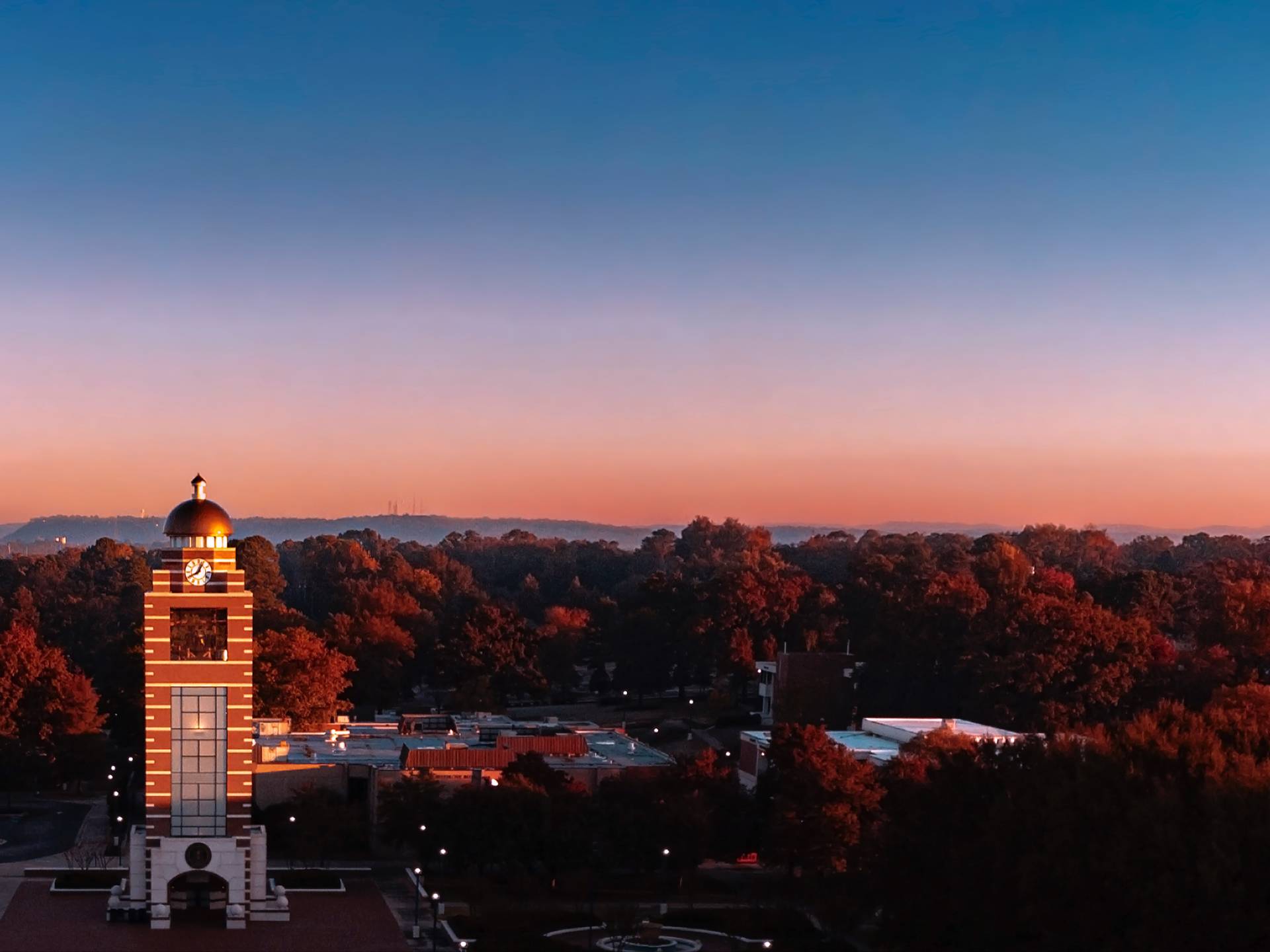 Chancellor
November 03, 2023
Fall Filled with Good Weather, Various Activities
Happy Friday, Lions.
This week has been one for near perfect afternoon weather: Gathering under the small rotundas and generally enjoying the beauty of fall in Fort Smith has been on the top of the agenda for many of you. Next week we will have unseasonably high temperatures, and I expect to see some of you lounging in hammocks or taking your free time to relax outdoors.
Congratulations: With an overall win-loss record of 19-5, the UAFS Volleyball team has advanced to consideration for regional competition in the South Central bracket. As we have more information about their regional competitions, we will be sure to share that with the university community. Go Lions!!
Charles Portis Symposium: UAFS is honored to host The Works and Influence of Charles Portis: A Symposium from November 2-4, 2023. Fans of Charles Portis know he is famous for more than his novel, "True Grit." His many publications are worthy of study and celebration, and the Symposium allows contributions from many scholars to be gathered on our campus. If you have not purchased your ticket, please do so on their website or tonight at the opening meet-and-greet in the Windgate Art and Design lobby.
Student Open Forum: The Student Government Association is hosting an open forum as an opportunity for students to ask questions of campus administrators and academic leaders. The forum will be held from 4-5:30 p.m. in the Windgate Auditorium on November 8.
Music and Theatre Department: November and December are incredibly busy months for faculty and students as the rehearsals and classes culminate in outstanding performances open to our whole community. I encourage you to review the schedule of events in our Stacey Jones Season of Entertainment. Don't miss an opportunity to attend: These performances are amazing.
Family Enterprise Center Naming Ceremony: Although we have announced the approval of the University of Arkansas Board of Trustees to name the Family Enterprise Center for Jim Walcott, the official naming ceremony to honor Jim Walcott and his family and friends will be held at 2:00 p.m. on Thursday, November 7 at The Bakery District. The ceremony is open to the public, so please join us to honor Jim Walcott and the outstanding work that the Walcott Family Enterprise Center does to sustain and grow family businesses in our region.
University of Arkansas Board of Trustees: UAFS is the host location for the University of Arkansas Board of Trustees meetings on November 15-16. The Trustees will be in meetings in the Reynolds Room on those days, and the formal schedule is posted on the UA System Board of Trustees website. Be on the look out for more information about the agenda and schedule on the UA System website.
Personal Thanks: I will conclude by sharing my personal thanks to my outstanding team. I have been out on medical leave for an unexpected surgery that took place on October 11, and just returned to work in the office this week. All of the campus leaders have helped me to take the time off I needed to recuperate and return to work. I encourage our employees to take your leave to take care of yourself or your loved ones. Your health is important, so please make and keep your doctor appointments and talk with professionals in HR if you want to learn more about your benefits provided by UAFS and the UA System.
Each day I am more grateful to serve as your chancellor.
Terisa Riley
Tags:
Chancellor's Messages