UAFS School of Education's mission is to ensure every teacher candidate is "Day One Ready" so all learners achieve their greatest potential.

The School of Education is committed to excellence in teacher preparation through classroom instruction, diverse field experiences, collaborative partnerships, and research-based innovative best practices. UAFS School of Education graduates are sought after for employment and make significant contributions through long-term careers in the field of education. The faculty are actively involved in scholarly and professional growth activities that support the shared vision, professional growth, and commitment to increased levels of student learning for the teacher candidates and P-12 students they serve. Our programs are accredited by the Council for the Accreditation of Educator Preparation.
---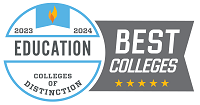 The School of Education partners with colleges on the UAFS campus to offer secondary education licensure in English, history, mathematics, and music. Bachelor's degrees with teacher licensure are offered in elementary education (K-6) and middle childhood education (4-8). An Associate of Applied Science in early childhood education is also available for those preparing to work in a preschool setting. Already a professional educator? You can take your career to the next level by earning your Master of Education from UAFS. Flexible hybrid courses make the M.Ed. program a perfect fit for busy adults. For more information about the School of
Education and its programs, call us at 479-788-7908 or email us at SchoolOfEd@uafs.edu.
Licensure Programs
December 12, 2023 07:30 AM to 09:00 AM
Center for Economic Development
School of Education at a Glance
All education programs are designed to integrate theory, innovative practice, and technology in a classroom while keeping students informed about education trends and promoting opportunities for career advancement.