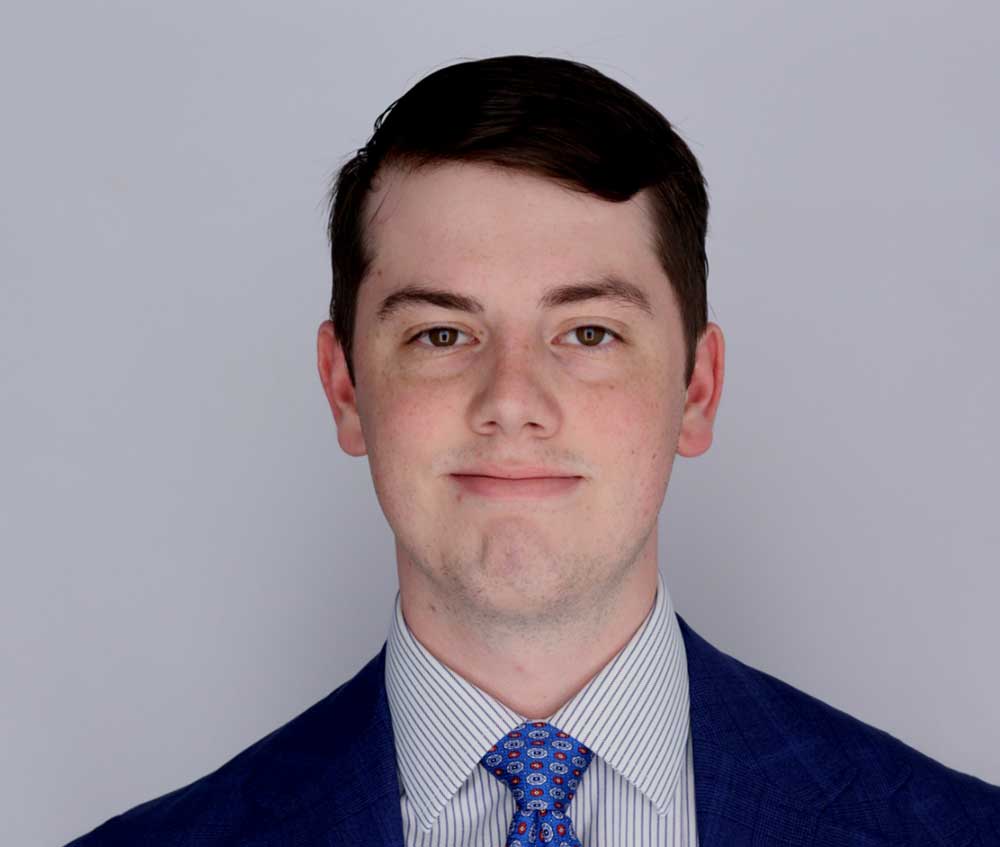 Lion Voices | Business and Industry
September 26, 2023
From Farm to Finance and the Chaos Between: Austin Miller's Path to Success at UAFS
"We fear chaos because of the way it dismantles our plans, our day-to-day lives, but that's where the opportunity is. That's where the growth experience happens."
Austin Miller, a senior accounting and finance student, described how he felt when he arrived at the University of Arkansas – Fort Smith ready to begin college in the fall of 2020. He not only faced the chaos of starting a new chapter in his life, moving away from Pea Ridge, Arkansas, to UAFS, but he did so as the world faced the unknown.
As he reflected on the final few months of his senior year in high school, Austin admitted that UAFS was not on his radar. But sometimes, that chaotic dismantling of plans can be serendipitous.
Following a visit to his high school by the UAFS admissions team, Austin went home, applied to be a Lion, and applied for three prestigious scholarships. He said that a few weeks later, he received a call that changed his path completely.
"I got a call to come to campus to interview for all three of them," Austin said. "It was actually my first time seeing the campus."
Little did Austin know then, but the site he visited for the first time would become his home for the next four years.
Austin received the Chancellor's Leadership Council Scholarship, which paid for all four years of his education and two years of living on campus. But soon, chaos struck during his moment of elation.
"I accepted the scholarship in February of '20, about a month before everything shut down," he said, recalling the panic and harm caused by the COVID-19 pandemic. "I came in with these high expectations and then found myself a victim of circumstances beyond my control. It was a rough adjustment, but I learned a lot from it."
Despite the unknowns facing the world, Austin arrived at UAFS in the fall of 2020. His schedule consisted of hanging out in his dorm room, attending virtual classes, and spending time in Pea Ridge.
By the following year, Austin was back on campus and eager to experience life away from home as COVID restrictions began to ease.
"There is a lot of opportunity here. COVID definitely dampens student life, but for my sophomore year, I got to be part of bringing things back," Austin explained.
That year, Austin served as the Student Government Association (SGA) treasurer, a peer mentor for a Planning for Success class, and the initial peer mentor for the business and entrepreneurship Living and Learning Community. As SGA treasurer, Austin chaired the committee responsible for allocating student activity funds to organizations on campus so that they could continue to make UAFS vibrant. In both peer mentor roles, Austin helped new students navigate the challenges many first-year students face and make the adjustments needed for a smoother transition to college life.
Interestingly, the things Austin helped others with, he, too, was going through in a sense. His first year at UAFS was restricted, but he used that as an opportunity to grow and help others going forward.
"You figure out what you can do, what you can't do, and what you're capable of doing," he said. "Anyone can handle things when they're going smoothly. There's no virtue in mediocrity. You've got to be able to handle a difficult situation and make the best of it."
The source of Austin's intrinsic motivation might be surprising.
"I grew up working on a family farm," he chuckled. "I was used to working long hours in the summertime. You know, when the crops are in the field, you got to be out there too. I'm used to working hard, and I feel like that's where the enjoyment comes from. … Having that background really prepared me well."
Today, Austin continues to demonstrate his work ethic outside of the classroom. His summer internship was at Forvis, one of the country's top ten tax and accounting consulting firms. Previously, he interned at Landmark CPAs and will return for another tax internship in the spring.
The chaos surrounding Austin's start at UAFS has blossomed into opportunities that continue to grow. Come May commencement, Austin will leave UAFS with enough credit hours to sit for the CPA exam. He might even be someone to turn to for tax help in the future.
Tags:
Lion Voices
College of Business and Industry
Accounting and Finance
Media Relations
The UAFS Office of Communications fields all media inquiries for the university. Email Rachel.Putman@uafs.edu for more information.
Send an Email
Stay Up-to-Date
Sign up to receive news and updates.
Subscribe
Rachel Rodemann Putman
Director of Strategic Communications
479-788-7132
rachel.putman@uafs.edu
Submit A News Tip